Objectives: Trip Leader Candidates must understand the hazards posed by other boat traffic, know United States Coast Guard night lighting requirement, and basic rules of the road as they pertain to kayakers.
Course Application and Suggestions: As both a kayaker and large boat sailor, I enjoy learning the nuances of the USCG Navigation Rules. Again – all vessels from kayaks to container ships – must follow the Navigation Rules (aka Rules of the Road and ColRegs). The Rules may be specific by vessel size or propulsion. A Google search brings up summaries of the Rules that are most applicable to kayakers such as here and here and here. At minimum, understand the ACA's excellent suggestions as summarized in this four minute minute video on Paddling with Boat Traffic.
Yes, we can debate the merits of right-of-away pecking orders versus the vernacular "law of gross tonnage" (where little boats give way to big boats for survival reasons). This limerick below sums up these two concepts.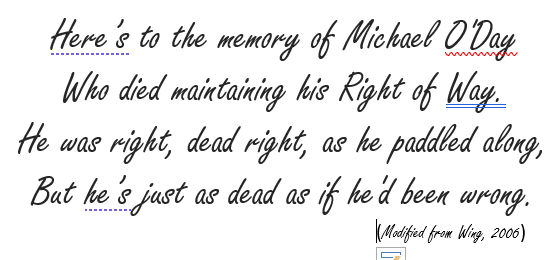 In reality, the Rules are more nuanced. Know them, especially if you paddle anywhere with commercial and/or recreational boat traffic. At minimum, understand the ACA's excellent suggestions as summarized in this four minute minute video on Paddling with Boat Traffic. I supplement with my own bullet points below.
In coastal waters, most ships and keeled sailboats are restricted to deep water channels. As a kayaker, I can paddle outside channels. Just as I stay off freeways when bicycling, I stay outside boat channels when I can.
Per admiralty law, I cross designated boat channels at right angles (not using ferry angles) to get out of the way as quickly as possible. Yes, I can lose ground in current. If losing ground is dangerous or inconvenient for me, I move up an eddy before crossing to allow for leeway (pushed off course by wind) and drift (by current).
Ships move faster than they may appear, so I cross behind, not in front of them. In addition, my groups cross together – not in single file – to minimize my crossing "footprint" and to enhance visibility.
I've learned that ship captains appreciate a concise VHF radio call (on channel 13 or 16) when an encounter cannot be avoided. They often cannot see kayakers by sight or radar. They may not be able to predict our moves or have learned to distrust kayaker's knowledge of safety at sea. So, communication is vital!
When another boat approaches, I generally must maintain my course and speed so that my movements are predictable. However, if I pass another boat, I must stay clear (out of the other boat's way).
For boats crossing in front of me, I watch my bow angle. If the angle off my bow stays the same as we approach, then we are on a collision course. I slow down or stop or alter my course appropriately.
Knowledgeable boaters use sound signals to signal intentions. At minimum, I know that one prolonged (4 to 6 seconds) blast is a warning signal and five short (one second) blasts mean danger (or do not understand or agree with intentions).
When I paddle at night, I review the light and shapes. As a kayaker, I must carry a white light which shall be exhibited in sufficient time to prevent collision.
I understand that differences exist between inland and international rules and even among states. The demarcation between inland and international is not always clear. At San Luis Pass, this ColRegs boundary is at the San Luis Pass bridge.
I understand that other boaters can report me to the USCG and gain large monetary awards if my actions (even partially) cause them to collide with another boat or fixed object or go aground. Even worse, if they collide with me, I probably will not survive.
Many recreational power boaters are not familiar with the Rules of the Road and may not even see me. I'm particularly cautious with recreational boaters. Still, courtesy is important on waterways. I stay clear of sailboat races and other boaters when I can.
Many quick reference guides on the Rules of the Road exist on the Internet. For detailed coverage, I find these Starpath courses and the texts below to be especially helpful. Note that a major revision to the USCG Rules of the Road occurred in 2015 but this revision did not affect kayakers appreciably.
Burch, D. (2016). Fundamentals of Kayak Navigation, 4th ed. Seattle: Starpath Publications. ISBN 978-0-914025-52-8
Wing, C (2006). The One-Minute Guide to the Nautical Rules of the Road, 2nd ed. Camden, ME: International Marine. ISBN 978-0-07-147923-3