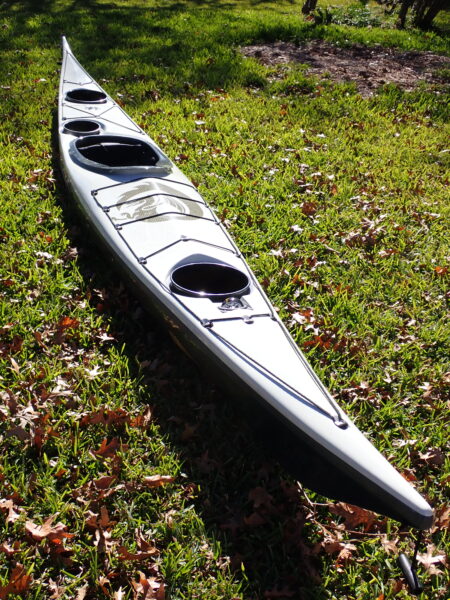 The Pilgrim is a responsive and fast kayak for the small or lighter paddler. The narrow hull offers quick acceleration to higher speeds while requiring far less effort to place and hold up on edge. It is easily turned and controlled even in strong winds, and rolls well as does all NDK Greenland style kayaks.  Call or click on contact us. We follow-up by phone or email for custom service (generally within 24 hours)!
Size:
15.8'cm x 19.7cm x 12cm

(LxWxH)
Product Description

The Pilgrim is a rough water enabler for the 80-140 lb paddler who doesn't need a wider boat. This hull is very stable for the smaller paddler and doesn't get pushed around by the excess surface area of a wider boat. It's also more likely to be the right length for paddlers in this size range who find that the Pilgrim's optimum hull speed fits their optimum output better than longer boats.
A responsive kayak designed for the small or slim paddler. The hull is narrow, offering speed and is very easily turned and controlled in wind with a minimum of weather cocking even in strong winds. This kayak is as easy to roll as any Greenland style kayak. Pilgrim fits the small kayaker and also the taller and slim kayaker. This multiple-fit option is due to a raised area either side of the cockpit.
The kayak is fitted with the high performance glass seat, unless otherwise requested (also available via pre-order in a smaller size).  The kayak has a low rear deck for easy rolling with quick exit as needed.  The keyhole cockpit that gives excellent grip  and control.  The sloping bulkhead behind the seat allows the kayak to be emptied by lifting only the bow, no x-rescue is necessary.
A day/weekend kayak for the small or taller and slim paddler.  Length: 15′ 9″, width: 19.5″, depth: 12″, overall volume: 66.18 gallons, front hatch volume: 16.38 gallons, cockpit volume: 31.04 gallons, day hatch volume: 9.51 gallons, rear hatch volume: 9.25 gallons.
Product Features
| | |
| --- | --- |
| FG | Fiberglass choice of elite (light), spray gel, or standard layup |
| 50/50 | Fiberglass hull with Carbon/Kevlar deck (with deck dragon logo) |
| C/K | Carbon/Kevlar (with deck dragon logo) |